Fa'amoana John Luafutu and his son Matthias Luafutu are the protagonists in this documentary, A boy called Piano, directed by Nina Nawalowalo, in competition at the FIFO. The entire film team is present in Tahiti, to meet the public and the prisoners of Tahiti, to tell their story.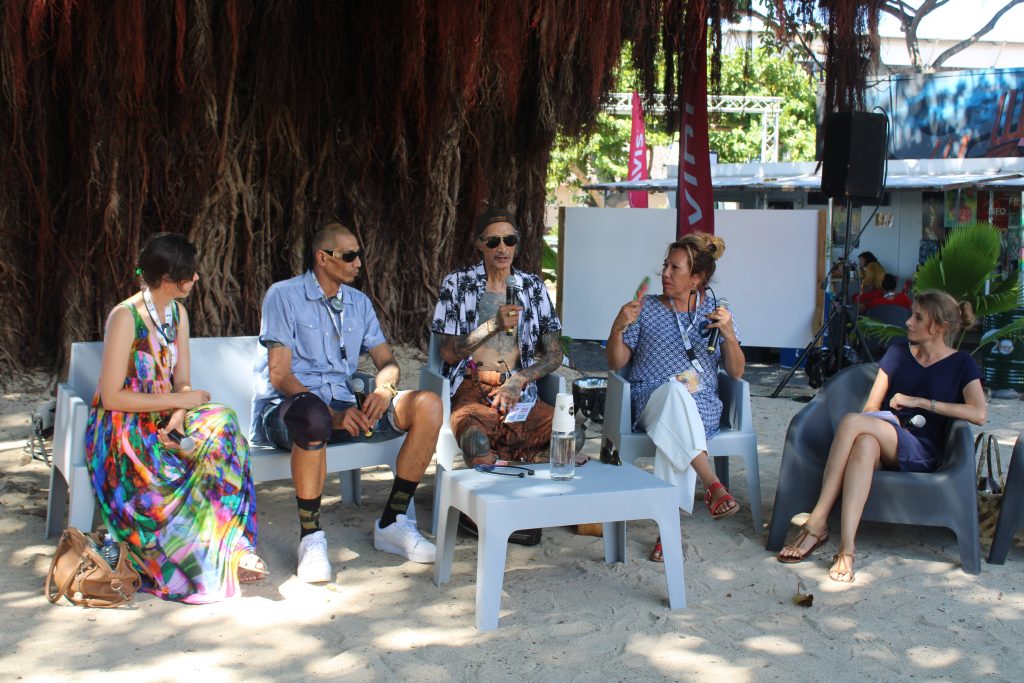 A few piano notes, some bubbles, dark water, a child immersed in the sea wraps his arms around his knees, like a baby in its mother's womb. "Innocence. We are all innocent in the beginning," says Fa'amoana John Luafutu. The piano was his mother's first love, when she became pregnant, she stopped playing and called her son "Piano", her second love. The whole family left Samoa for New Zealand, hoping for a better life for their children, dreaming that they would become doctors, lawyers… But Fa'amoana did not speak English and was lost at school where he was mocked. They even took his first name from him, preferring to call him John, much easier to pronounce. So he played hooky from school: it's better in the park. Arrested by the police, he is taken to the juvenile court and placed in a rehabilitation home. And so began his fall into hell… At 13, he found himself in the Kohitere home. "I learned a lot of bad things," he says as he returns to the scene 48 years later. "It's really weird to be here. A lot of the guys i knew at that time are dead now." Children were abused there, locked in the solitary confinement area, a cell a few feet long with a bucket, at the drop of a hat. "The lights and shadows in the window would tell us the time of day." Those who got out of this place usually ended up in prison a few years later. Gangs, violence…" You come out of those homes angry. I was filled with hate. It just pulped you. You became a hothead."
In prison he came across a book by Albert Wendt, a Samoan poet and writer: Sons for the Return Home. It was an electroshock and he began to correspond with the writer, who encouraged him to write his own story. His book, A boy called Broke, helps Fa'amoana John Luafutu to understand his life, especially since his eldest son is following in his footsteps: prison. At that time, many told the same story: the father went to a reeducation home and the son went to prison. Matthias Luafutu was saved by acting: in prison he did some theater and became an actor. Both men pull through, one through writing and music, and the other through theater and film. It's only now that I can look at my past," says Matthias. I know what it means to stand not only for the future but for the past as well." The two protagonists of this impressive documentary are present at the FIFO in Tahiti and have spoken about their story to the general public but also at the Nuutania and Tatutu detention centers. "Yesterday we went to the Tahitian prison, because we wanted to show the film to the inmates. I saw a guy, same age as me, and his son, both detained, they were crying. It was moving to see these tough guys crying because they identified with our family. I advised them to write their story, look at themselves in the present and do something positive for their family. It's an honor to bring this film into the prisons to encourage social change," says Fa'amoana John Luafutu.
Today, through their testimony, the two men are fighting against this "industry": "The government wants more concrete, more prisons, but this industry must be stopped because it is an industry! When Fa'amoana John Luafutu testifies before the Royal Commission on Child Abuse, the whole country tries to come to terms with its past. It's really the story of many children in Polynesia, it's the reality of many people," says Nina Nawalowalo, the director, who has worked with the Luafutu family for many years. Together, they wrote and performed a play, then a piece for radio before making the documentary presented this year in competition at the FIFO. "I think it's universal, it's interesting to note that in documentaries, whether Canadian, Finnish or Australian, these things are hidden but do exist. The most important thing is to tell the truth, to tell the impact of these things and that it becomes a generational problem. We need to bring these things to the surface to try to heal from them." Matthias Luafutu adds that yes, this pain was "inherited." But it only took one: "My father turned his life around and encouraged me to change mine. I did it early enough to save my son from the same journey.
My children don't have the same difficulties, we are better off now. I feel blessed, I am very lucky to have a career in film and theater, it has transformed my life."
The documentary ends with Fa'amoana John Luafutu saying, "The story of thousands of children must be heard. We must face our history. Let the truth set us free.
Lucie Rabréaud – FIFO