Directed by Briar March More than gold looks back at the extraordinary journey of Dame Valerie Adams and her life as a Tongan-born woman and a New Zealand shot put champion: a role model.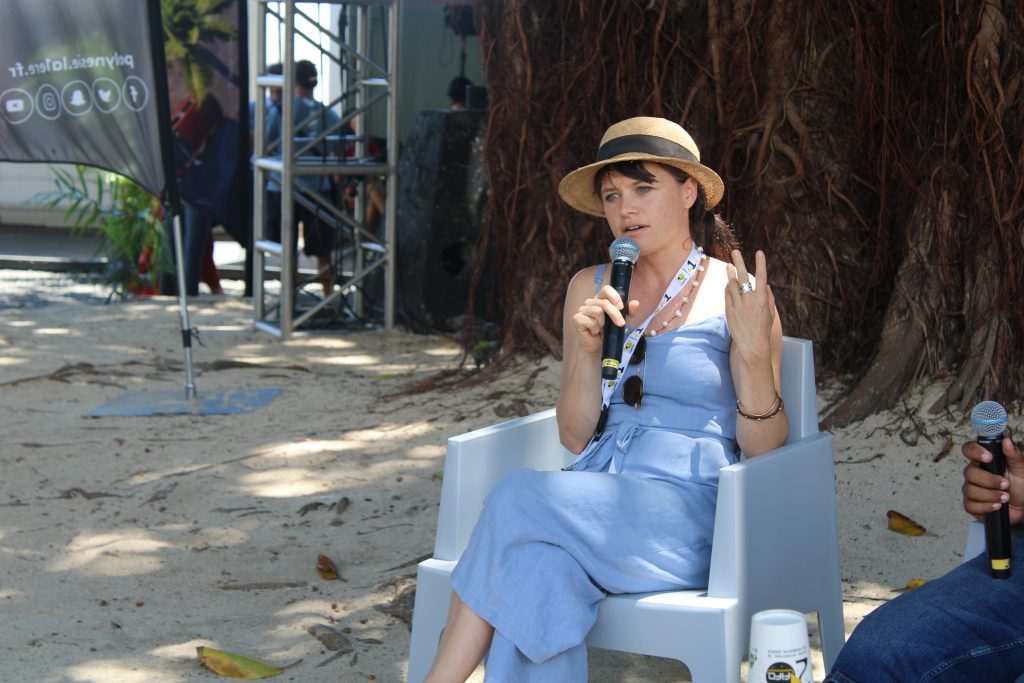 This is the story of a little girl who thought she was too tall and tried to hide it, at the age of 12, Valerie Adams was 1.97 metres tall and wore size 47 shoes. In spite of her tendency to lower her head, "You could see me from a mile away". She was quickly spotted by her sports teachers, who suggested she compete in shot put. At her first competition, she walked into the circle barefoot, threw the shot put and broke the record in her category. When her teacher took her shopping and bought her first pair of sports shoes, she says: "it was a magical feeling,". Sent to the World Championships in Poland, she placed 8th, but her disappointment was quickly erased by the incredible welcome when she returned home: "My mother was so happy and proud…". Sadly she was to lose her mother to cancer when she was only 16, then her stepfather told her that she was not his daughter and that she had to make her own way in life and must leave. So Valerie Adams went to live with her first coach and vowed to pursue her dream of reaching the Olympic Games. "I surmounted my grief thanks to the training" and her training paid off when she won her first cadet world championships at 17. "I was shy, and slouched, but today I stand up straight". This was the beginning of a long career with an impressive record of achievements: two Olympic titles (2008 in Beijing and 2012 in London), a silver medal (2016 in Rio) and a bronze medal (2020 in Tokyo), four-time world champion, four-time world indoor champion, three-time Commonwealth Games champion, Oceania record holder and 15 times national champion.
This documentary recounts her incredible journey and her life as a woman, a life marked by many trials: she had a violent first husband whom she eventually divorced and a happy second marriage but was diagnosed with serious endometriosis and they were only able to have children thanks to two IVFs, she then discovered that her son had type 1 diabetes and her daughter is autistic, she herself came close to death after her second delivery and underwent several operations.
"Dame Valerie Adams is the Michael Jordan of shot put! She had a 25-year career and for 10 years she won every competition she entered. Very few athletes have had that kind of track record, she has surpassed so many things in her life. Her story is incredible," says director Briar March and when she heard that Valerie was preparing for her fifth Olympics with the Tokyo Games, she wanted to make this portrait. Valerie Adams was 36 years old at the time and these would surely be her last Olympics. "It was the right time to retrace her life. Valerie herself is the film's narrator, recounting her life and history to her preparation for the Tokyo Olympics. It is also a "contemporary portrait of how the Tongan family works," says Briar March, focusing on the athlete's entourage, including her supportive and loving husband and his mother, whom Valerie considers as her own mother.
But above all it is this woman herself who impresses; she is an icon of modern times.
"For Valerie it was a delicate subject, we spent a lot of time in interviews exploring all the different parts of her story, it was fascinating. There were some very heavy subjects and although her priority was to go to the Tokyo Games, she did this because she sees the role she can be for others, especially for mothers, other athletes… She takes this role model role very seriously." Her story also demonstrates the discipline required of an athlete: "When you are competing, you have to be present, strong, manage the stress and stay positive. If things go wrong, you have to put them aside. You have to know how to cooperate with the coach and remain open to his criticism. You have to be disciplined and come back every day to do the same thing," Briar March is admiring. Valerie Adams has applied all of these skills to her personal life. "She's faced a lot of challenges; she's such an example of resilience.
The film crew travelled to Tonga for the first public screening of the film, at that time, following the tsunami, the volcanic eruptions and Covid, the Tongan people were facing many challenges. "Everyone was crying, singing, it was a very intense experience for me.
After the presentation of the film during an Inside the Doc, a spectator summed up his feeling: "This lady gave us a lesson in life. It is exceptional to reach this level. It's unique. Thank you."
Lucie Rabréaud – FIFO